Whether thin or thick, sold fresh or dry or made with rice flour, bean flour or wheat flour, Chinese noodles are a staple and a traditional and authentic dish loved by all. It is a delicious amalgamation of spices, vegetables, and noodles. Undoubtedly, it is a simple and nice preparation. From the hearty Zhajiangmian to longevity noodles and the easy and quick lo mein preparation, here you will find different ways of making the popular noodle recipe from China.
Simple Chinese Noodle
Prep Time: 15 mins
Cook Time: 20 mins
Ingredients
Noodles: 300 grams
Green pepper: 4
Salt: 4 pinches
Shredded carrot: 4
Soysauce: 4 tbsp
Chopped garlic: 20 cloves
Black pepper: 2 pinches
Vinegar: 2 tbsp
Sliced onion: 4
Sunflower oil: 4 teaspoons
Tomato chili sauce: 2 tablespoons
Shredded cabbage: 200 g
Chopped beans: 150 gm
Water: 8 tbsp
Instructions
Take a microwave safe container and add some water to it. Also, add salt and oil. Boil the noodles for ten minutes while stirring in between. Wash the boiled noodles with cold water and set aside.
Take another container and add some oil to it. Microwave the oil for 30 seconds at 100% power. Add in all the chopped veggies and microwave for four to five minutes. Keep stirring the blend.
Next add tomato chili sauce, soy sauce, Ajinomoto and vinegar. Mix the ingredients very well.
Add the boiled noodles to this mixture and stir properly. Microwave for one minute and you are done with your dish.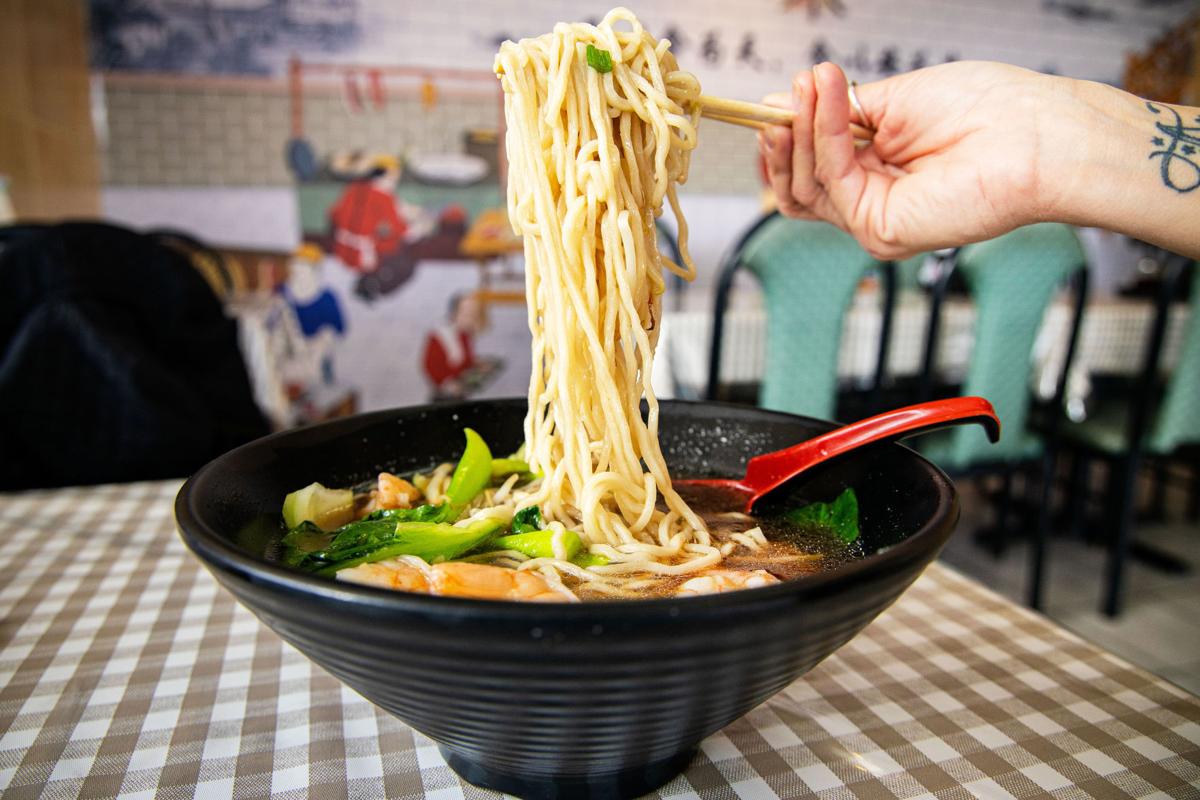 Zhajiangmian Chinese Noodle Dish
Prep Time: 40 mins
Cook Time: 20 mins
Ingredients
Noodles: 400 grams
Beef mince or pork mince: 300g
Carrot: 1
Bean sprouts: 120g
Tofu: 6 pieces. The pieces should be firm enough.
Edamame beans: 1 bowl
Shallots: 2 tbsp
Spring onions: 3
Chilli: 1 finely chopped and seed removed
For Seasoning, You Will Require:
Water: ½ cup
Corn flour: 2 Tsp
Soy sauce: 2 tablespoons
Chili bean sauce: 3 tbsp
Sesame oil: 1 teaspoon
Directions
Get a wok and heat some oil for stir-frying the chili, shallots and spring onions until soft.
Add pork or beef mince and stir-fry until it is properly cooked. Now add tofu and keep stirring the blend for three to four minutes.
Next put in the chili bean and soybean sauces while frying continuously. After some time, add water, Edamame beans, and sugar. Make sure that everything is mixed evenly.
Mix cornflour in cold water and cook for some time until the sauce is dry and thick.
Boil the bean sprouts and carrot in a container and use the same water for boiling the noodles.
Add these boil ingredients to fried vegetables and serve hot.
These Chinese noodles recipes are loved by all those people who are fond of dishes and preparations from China. Topping the list of children's favorite food, these are gateway recipes for special occasions and events. You can prepare them easily and pair them with chilly chicken or Manchurian to be enjoyed by friends and family members!